Cryogenic liquid storage tank inspection is divided into external inspection, internal inspection and multi-faceted inspection. The periodic inspection of cryogenic storage tanks shall be determined according to the technical conditions of use of the storage tanks.
 Generally speaking, the external inspection is at least once a year, the internal inspection is at least once every 3 years, and the multi-faceted inspection is at least once every 6 years. If the low-temperature storage tank has a service life of more than 15 years, an internal and external inspection shall be carried out every two years. If the service life is 20 years, an internal and external inspection shall be carried out at least once every year.
1. Internal inspection
 1). Whether there is corrosive wear on the inner surface and the manhole connection storage tank, and whether there are cracks in the welding seam, the transition area of ​​the head or other places where the stress is concentrated;
 2). When there is corrosion on the inner and outer surfaces of the tank, multiple wall thickness measurements should be performed on the suspected parts. If the measured wall thickness is less than the designed small wall thickness, the strength verification should be re-checked, and suggestions on whether it can continue to be used and the allowable high working pressure should be put forward;
 3). When the inner wall of the tank has defects such as decarburization, stress corrosion, intergranular corrosion and fatigue cracks, metallographic inspection and surface hardness measurement shall be carried out, and an inspection report shall be submitted.
2. External inspection
 1). Check whether the anti-corrosion layer, insulation layer and equipment nameplate of the storage tank are intact, and whether the safety accessories and control devices are complete, sensitive and reliable;
 2). Whether there are cracks, deformation, local overheating, etc. on the outer surface;
 3). Whether the welding seam of the connecting pipe and the pressure components are leaking, whether the fastening bolts are intact, whether the foundation is sinking, tilting or other abnormal conditions.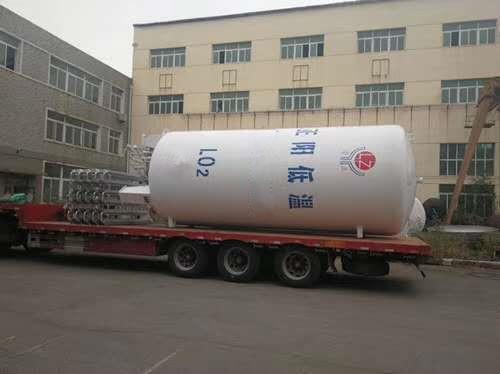 3, Complete inspection
 1). Perform a non-damage inspection on the main weld or shell, and the length of the spot check shall be 20% of the total length of the weld;
 2). After passing the internal and external inspections, perform a hydraulic test at 1.25 times the design pressure of the storage tank and an airtight test at the design pressure of the storage tank. In the above inspection process, the storage tank and the welds of all parts have no leakage, and the storage tank has no visible abnormal deformation as qualified;
 After the inspection of the low-temperature storage tank is completed, a report should be made on the inspection of the storage tank, indicating the problems and reasons that can be used or can be used but need to be repaired and cannot be used. The inspection report should be kept on file for future maintenance and inspection.
---
Post time: Dec-27-2021