Movable Medical Oxygen O2 Plant With Cylinder Filling Station
Product Detail
Product Tags
XUZHOU HUAYAN GAS EQUIPMENT CO.,LTD oxygen generator adopts Pressure Swing Adsorption technology to produce oxygen from compressed air .
HYO series Oxygen Generators are available in different standard models with capacity ranging from 3.0Nm3/h to 150 Nm3/hour at 93% ±2 purity .The design is made for round the clock 24/7 operation .
Technical Specification:
Flow rate: 3.0 Nm3/h to 150 Nm3/h

Purity: 93% ±2 (based on customer's requirements)

Dew point: -50°C

Operating temperature: 5°C – 45°C
Features of 90%-95% Oxygen Generator
1)Adopt human-computer interface and intelligent control to make simple operation and supply qualified oxygen gas quickly.
2)High-efficiency filling technology of molecular sieve, to makes ZMS much tighter firmer and longer service life.
3)Adopt international famous brands PLC and pneumatic valves, to switch automatically and make operation more stable.
4)Pressure, purity and flowrate are stable and adjustable, can meet different requirements of customers.
5)Compact structure, nice appearance, and small occupation area.
Applications of 90%-95% Oxygen Generator
1)Sewage treatment: oxygen-enriched aeration for activated sludge, ponds oxygenation and ozone sterilization.
2)Glass melting: combustion-supporting dissolution, cutting to increase yield and extend the service life of stoves.
3)Pulp bleaching and paper making: changing chlorinated bleaching to oxygen-enriched bleaching with low cost, sewage treatment.
4)Non-ferrous metal metallurgy: oxygen-enriched smelting of steel, zinc, nickel, lead, etc. PSA technology is gradually taking the place of cryogenic technology.
5)Petrochemical and chemical industry: increasing the reaction speed and chemical production output by adopting oxygen-enriched oxidizing reaction.
6)Ore treatment: use oxygen in gold, etc. production process, to improve precious metal extraction efficiency.
7)Aquaculture: increasing dissolved oxygen in water by oxygen-enriched aeration to vastly improve fish yield, also can use oxygen when transport live fish.
8)Fermentation: replacing air with oxygen in fermentation to drastically improve efficiency.
9)Drinking water providing oxygen to ozone generator for sterilization.
10)Medical: oxygen bar, oxygen therapy, physical health care, etc.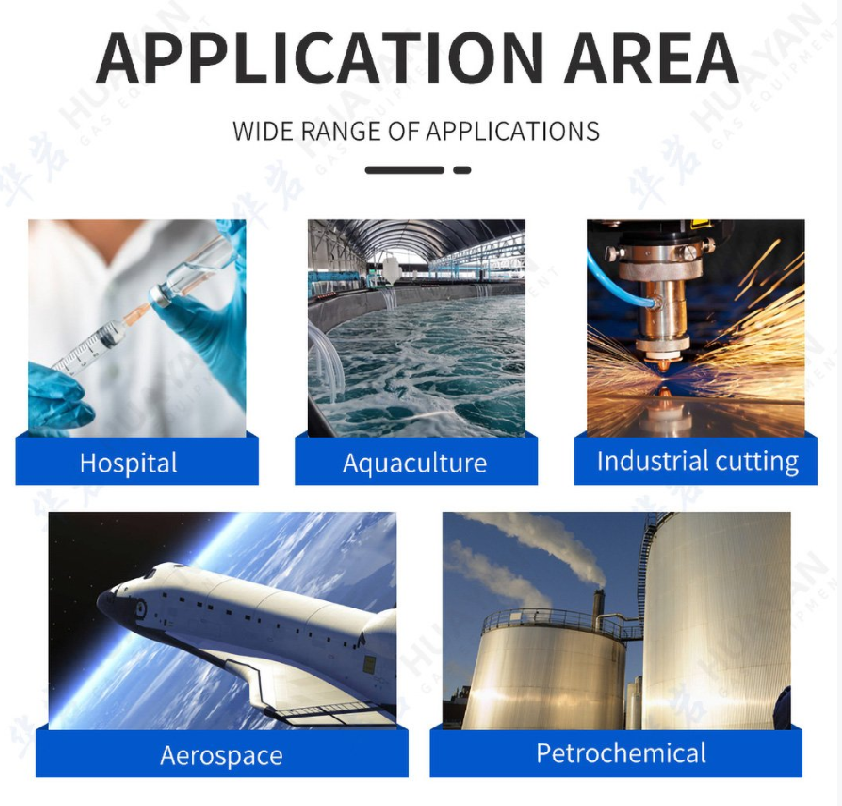 Standard Model and Specification
MODEL

PRESSURE

OXYGEN FLOW

PURITY

CAPACITY FOR FILLING CYLINDERS PER DAY

40L /150bar

50L /200bar

HYO-3

150/200BAR

3Nm³/h

93%±2

12

7

HYO-5

150/200BAR

5Nm³/h

93%±2

20

12

HYO-10

150/200BAR

10Nm³/h

93%±2

40

24

HYO-15

150/200BAR

15Nm³/h

93%±2

60

36

HYO-20

150/200BAR

20Nm³/h

93%±2

80

48

HYO-25

150/200BAR

25Nm³/h

93%±2

100

60

HYO-30

150/200BAR

30Nm³/h

93%±2

120

72

HYO-40

150/200BAR

40Nm³/h

93%±2

160

96

HYO-45

150/200BAR

45Nm³/h

93%±2

180

108

HYO-50

150/200BAR

50Nm³/h

93%±2

200

120

HYO-60

150/200BAR

60Nm³/h

93%±2

240

144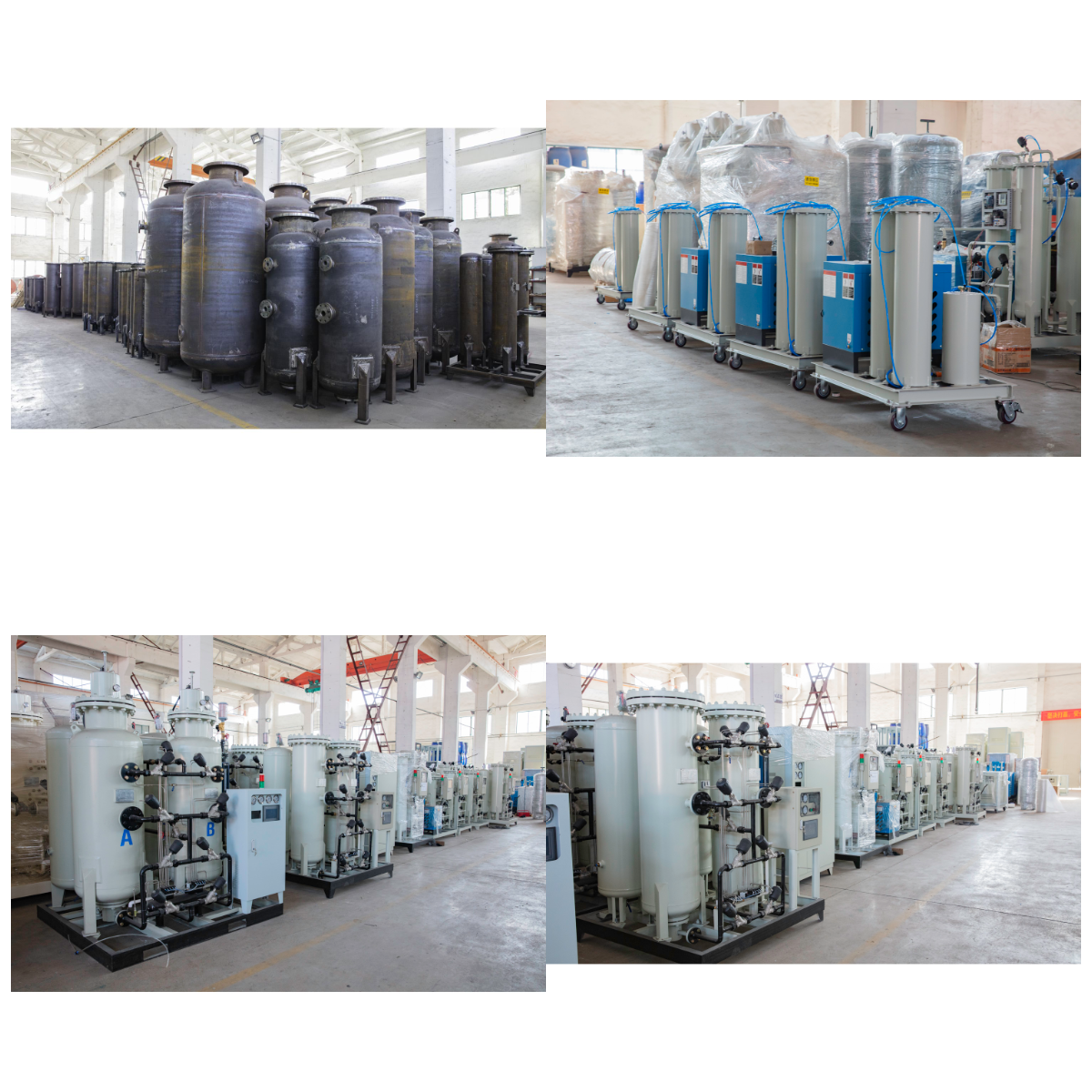 How to get a quote ? Customized is accepted .
O2 flow rate :______Nm3/h (how many cylinders do you want to fill per day(24 hours)

O2 purity :_______%

O2 discharge pressure :______ Bar

Voltages and Frequency : ______ N/PH/HZ

Application : _______
The Oxygen Generator System is consisted by .Air Compressor , Air Receive Tank ,Refrigerant Dryer &Precision Filters , Oxygen Generator ,Oxygen Buffer Tank , Sterile Filter,Oxygen Booster,Oxygen Filling Station .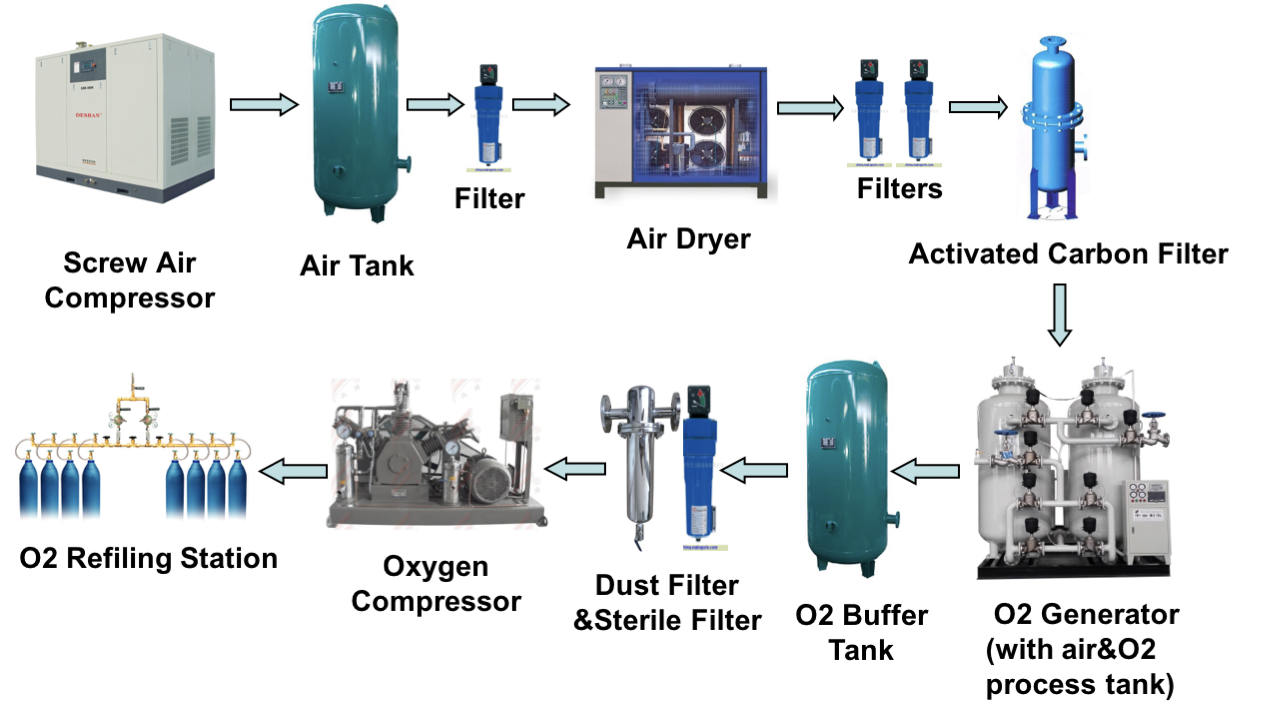 ---
Previous:
Containerized Nitrogen Generator System
---
Write your message here and send it to us
Related products